UltraStream
Hydrogen Rich Alkaline Water Filter
The UltraStream a simpler, far more affordable way to alkalize, ionize and purify water.
Using the world's best leading-edge filtration media
the UltraStream produces the same alkaline, ionized, antioxidant water as water ionizers 4x times the price.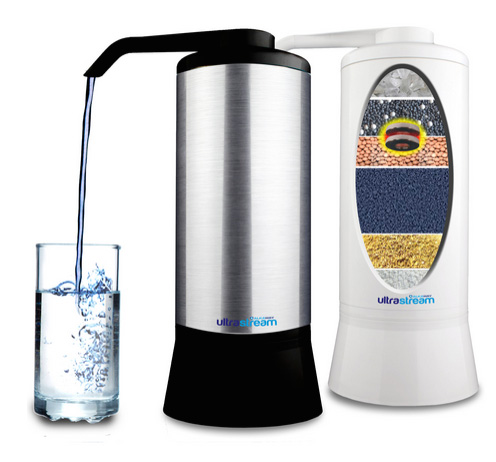 Removes Fluoride, Chlorine, Chloramines, Heavy Metals, Pathogens and much more.
Now with an additional Virus Guardian filter layer.
Adds Beneficial Alkaline Minerals to Produce Alkaline Water
Infuses water with Molecular Hydrogen.
Tested for the life of the filter (12 months or 3000 litres).
Designed in Australia and tested for Australian water conditions. Manufactured in the USA.
3 Year Warranty* conditions apply.
Easy to install Replacement Cartridge
UltraStream, unlike most other water filters, is tested for the filter life to remove a HUGE range of modern contaminants in your water. Incorporating the latest advances in water filter technology, UltraStream gives you great-tasting, safe, alkaline, ionized, hydrogen-rich water on tap in your home.
Superior Water Filtration
Removes:

Chlorine and chloramines (ammonia is added to chlorine, to stay in the water longer).
Fluoride
Removes arsenic, pesticides, phosphorus and halides.
Volatile Organic Compounds (VOCs).
Removes viruses, bacteria

Removes Heavy Metals:

Lead
Aluminium
Iron
Zinc
Copper

Softens the water.
Healthier, Alkaline Water
Adds beneficial alkaline minerals to produce Alkaline Water
Adds calcium and magnesium and trace minerals
Maintains potassium and sodium levels in water
pH up to 9 over the 3000 litres (may vary, depends on the pH of the input water).
Water Ionizer and Antioxidant Producer
UltraStream produces better alkaline, ionized, antioxidant, filtered water than electric water ionizers 4x times the price.
It is a far simpler and more affordable way to alkalize, ionize, and purify drinking water.
Gives consistent negative ORP over the life of the filter down to -500mV.
Supplies 'on tap' antioxidant negative ions in every glass.
Hydrogen-infused filtered water
Infuses your drinking water with anti-inflammatory Molecular Hydrogen.
The health benefits of H2 have been tested in Over 300+ published studies and 1000+ scientific articles.
Why is Hydrogen So Important?
Hydrogen is a dynamic antioxidant and helps to detox the body. It targets toxic free radicals and helps to eliminate them from the body. Scientific studies have concluded that hydrogen may help and prevent a range of diseases including, cancer, diabetes, cardiovascular, arthritis, gout and other inflammatory-related degenerative diseases.
How Does Hydrogen Benefit The Body?
Hydrogen in the form of H2 has been extensively studied and shown to be a powerful and selective antioxidant. Studies show that it not only acts as an antioxidant itself, but also to support production of our natural antioxidants such as glutathione. Hydrogen acts as a therapeutic antioxidant by selectively reducing cytotoxic oxygen radicals.
"I first learned about the health benefits of ionized (alkaline/oxygenated) water over 30 years ago. Over the years, I studied, used and sold many water units. Recently I was introduced to Ultrastream and it peaked my curiosity.
With 21st century technology, this unit not only ionizes the water but adds the all-important element of Hydrogen into the equation. And it does so without using electricity, it is small and sleek."
– Dr. Phillip Princetta
Previously I have suffered from gout on & off for many years. My son purchased an Ultrastream 3 months ago and after drinking the pure alkaline, hydrogen-rich water and eating carefully for this amount of time I have not suffered from gout since. This has made a huge difference to my life.
– Colin, QLD
My whole family is now enjoying pure water from the Ultrastream filter.
I am a big believer in the 80/20 Alkaline way of life for health and well-being and this is certainly the way to go as we all drink so much water. We replaced our normal water filter with an Ultrastream and under sink unit and tap. Very happy with it and the water tastes great.
– Victoria Langham
Health Benefits of UltraStream Hydrogen Rich Water
Promotes greater cellular hydration.
Reduces aches and pains, soreness.
Improves alkalinity and reduces acidosis.
Reduces headaches and migraines.
Reduces skin irritations.
Great for all regardless of diet.
Reduces fatigue and tiredness during the day.
Improve cognitive ability (memory and concentration difficulties – "brain fog").
Reduces irritability, anxiety, nervousness.
Improves the body's nutrient uptake into the cells.
Improves the release of toxicity from the body.
Great for the entire family and suitable for all ages.
Save money, help the environment
Saves money – cost is 22c/litre in the first year, 8c/litre after that;
Save thousands of single-use bottles from going into the environment.
"Pure Water Is The Base For Performance"
I discovered that alkaline water has additional benefits to ordinary filtered water or mineral depleted reverse osmosis water. More research is also becoming available to demonstrate the performance enhancement aspects of hydrogen rich, structured water… red blood cell movement depends on optimal pH and hydration. I've been drinking this water for a year now and it's certainly been the healthiest, happiest, strongest year of my life so far!
– Keegan Smith – Head Performance Coach, Sydney Roosters
"It's The Purest Tasting Water I Have Ever Had"
My name is James Newbury I am 23 years old and have been using UltraStream for the past 6 months religiously. It is the purest tasting water I have ever had and I feel so much better when I drink during training and competitions. I have just competed in the Australian Men's Fitness Fitbloke challenge and placed 1st overall after coming 2nd for the past 2 years. I truly believe my improved performance has to be in some part a result of using the UltraStream water and allowing myself to rehydrate and recover faster and better than the competition.
– James Newbury – Australian Men's Fitness , Fitbloke Champion 2014
"The best filter so far"
I've tried different kinds of filters from reverse osmosis to very expensive filters made in Japan. Must say that Ultrastream is the best value for money and the taste of water is great. It's easy to install it and doesn't take much space on my kitchen bench which wasn't the case with other filtering systems. I used to suffer from migraines and poor energy and since I started drinking Ultrastream water, I feel so much better.
– Michael Gibson, Sydney